S
ondage
D
u
M
ois
Il n'y a pas encore de contenu pour ce panneau
[Nouvel Album] The Ocean


THE OCEAN dévoilent de nouvelles infos pour son prochain album, avec la tracklist, une première video making-of et un titre.

Le premier titre, "Bathyalpelagic II: The Wish in Dreams" et les making-of sont à retrouver sur le site de Metal Blade.

Le second, "Hadopelagic II: Let Them Believe" se trouve chez Pitchfork.

La tracklist :

01. Epipelagic
02. Mesopelagic: The Uncanny
03. Bathyalpelagic I: Impasses
04. Bathyalpelagic II: The Wish in Dreams
05. Bathyalpelagic III: Disequillibrated
06. Abyssopelagic I: Boundless Vasts
07. Abyssopelagic II: Signals of Anxiety
08. Hadopelagic I: Omen of the Deep
09. Hadopelagic II: Let Them Believe
10. Demersal: Cognitive Dissonance
11. Benthic: The Origin of Our Wishes



THE OCEAN vient de dévoiler plein d'infos sur son prochain disque qui s'appelera "Pelagial". Il sortira le 29 Avril chez Metal Blade et sera, comme vous l'aurez pu devinez, un concept album sur la zone Pélagique.

Voilà la tracklist :
Epipelagic
Mesopelagic
Bathyalpelagic
Abyssopelagic
Hadopelagic

Si vous voulez retrouver toutes les infos et quelques petits extraits de cette futur sortie, rendez-vous sur le site de l'Océan.


De magnifiques éditions limitées, Vinyle 4x10" et 2xCD sont en précommande (avant l'édition standard qui arrivera le 11 Mars). Elles seront toutes les deux accompagnées d'un DVD contenant un film montée sur la musique de l'album (et qui accompagnera également le groupe sur scène).


Pour promouvoir cette sortie le groupe sera en tournée pendant trois semaines avec CULT OF LUNA d'Avril a Mai, avec un passage au Roadburn Festival.


Le triple DVD "Collective Oblivion" a été repoussé, mais il devrait voir la lumière du jour en 2013.
D
erniers
A
rticles

Cult Of Luna + God Seed @ L...

Coilguns + My Only Scenery ...

The Ocean + Hacride + Shini...

Dagoba + Slaughterers @ Le ...

Madball + Walls Of Jericho ...

[Interview] Hacride - Juill...

Hacride + Fifteen + Temnein...

[Interview] Dagoba - Sonisp...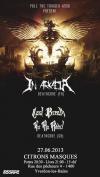 In Arkadia @ Yverdon, 27 ju...

Redeeming Torment

Sonisphere France 2013 - Sa...

Hatebreed + Six Grammes Eig...

Cult Of Luna + The Ocean + ...

MetalRide Festival V - L'Au...

A Day With The Ocean - Pela...

Bonecrusher Fest @ Kulturfa...

Knuckledust + Dirty Fingers...

The ARRS + Crush The Clock ...


In Arkadia - Eyes Of The Ar...

Coilguns - C O M M U T E R S


Hyana + Khynn + Broken Edge...

Machine Head - Machine Fuck...

As They Burn + Make Me A Do...

Gojira + Trepalium + Klone ...

The Epic Industrialist Tour...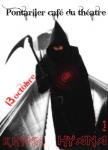 Khynn + Hyana @ Pontarlier,...


Blindness - Scar(r)ed


Sybreed + Samael @ Lausanne...

Klonosphere Tour @ L'Autre ...

Hypno5e + Anunaki + Stone R...

Sybreed - God Is An Automaton

Abraham - The Serpent, The ...

Earthship - Iron Chest

Rise Of The Northstar + All...

[Interview] As They Burn