S
ondage
D
u
M
ois
Il n'y a pas encore de contenu pour ce panneau
[Concours] Metal Blade


Salut à tous ! En ces beaux jours de Printemps, Metal Federation s'associe à Metal Blade afin de vous faire gagner le nouvel album de Arma Gathas et le nouvel opus de Skyforger. Avec ceci, vous gagnerez également l'album reédité de The CNK - Ultraviolence Über Alles.

Le premier vainqueur gagnera l'album d'Arma Gathas + CNK et le second gagnera l'album de Skyforger + CNK.


Pour cela rien de plus simple, il vous suffit de répondre à deux petites questions :

1. De quel groupe faisait partie Simon Füllemann, créateur de Arma Gathas?

2. De quel pays est originaire Skyforger?

Envoyez vos réponses par MP sur le forum de Metal Federation ici à X-BASTIEN ou R+25. Vous avez jusqu'au Mercredi 05 Mai 12h pour participer.

En cas d'égalité, les vainqueurs seront tirés au sort.

Bonne chance à tous !




Concours TERMINE.



D
erniers
A
rticles

Cult Of Luna + God Seed @ L...

Coilguns + My Only Scenery ...

The Ocean + Hacride + Shini...

Dagoba + Slaughterers @ Le ...

Madball + Walls Of Jericho ...

[Interview] Hacride - Juill...

Hacride + Fifteen + Temnein...

[Interview] Dagoba - Sonisp...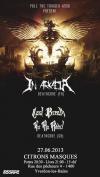 In Arkadia @ Yverdon, 27 ju...

Redeeming Torment

Sonisphere France 2013 - Sa...

Hatebreed + Six Grammes Eig...

Cult Of Luna + The Ocean + ...

MetalRide Festival V - L'Au...

A Day With The Ocean - Pela...

Bonecrusher Fest @ Kulturfa...

Knuckledust + Dirty Fingers...

The ARRS + Crush The Clock ...


In Arkadia - Eyes Of The Ar...

Coilguns - C O M M U T E R S


Hyana + Khynn + Broken Edge...

Machine Head - Machine Fuck...

As They Burn + Make Me A Do...

Gojira + Trepalium + Klone ...

The Epic Industrialist Tour...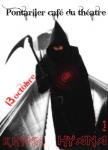 Khynn + Hyana @ Pontarlier,...


Blindness - Scar(r)ed


Sybreed + Samael @ Lausanne...

Klonosphere Tour @ L'Autre ...

Hypno5e + Anunaki + Stone R...

Sybreed - God Is An Automaton

Abraham - The Serpent, The ...

Earthship - Iron Chest

Rise Of The Northstar + All...

[Interview] As They Burn